Tabard sent to me as a blog collaboration / PR Product
Last week I had a conversation with Rider Eye who are trying to spread a positive message about hi-vis. I am a firm believer that a hack should not be done without any. As equestrians we have quite a bad relationship with other roads users however I think this could be improved and a good hi-vis would be a start.
I remember one Sunday afternoon in spring a few years back I was hacking with my friend Sophie through a very busy village. The sun was shining, we wore hi vis and as we had a young horse and some ugly bends ahead we opted to ride two abreast for a short distance. Then came the angry man in a truck, swerving, beeping and getting quite irate. We laughed it off initially. Further on up the road he came out of his house shouting. In pure disbelief we hacked past ignoring the ridiculous behaviour. That, that is when I discovered something needed doing to improve there relationship between us and drivers as long as education about why we ask things like "Pass slowly". NEWSFLASH we don't do it for fun or to wind you up.
Why do we wear Hi-vis?
There are many reasons why we don these bright coloured tabbards, rugs, neck straps (next on my list) and so on. The main reason personally is to protect Cols. I would never forgive myself if my recklessness caused him harm. If I can make other road users as aware of me as possible then that's what I need to do.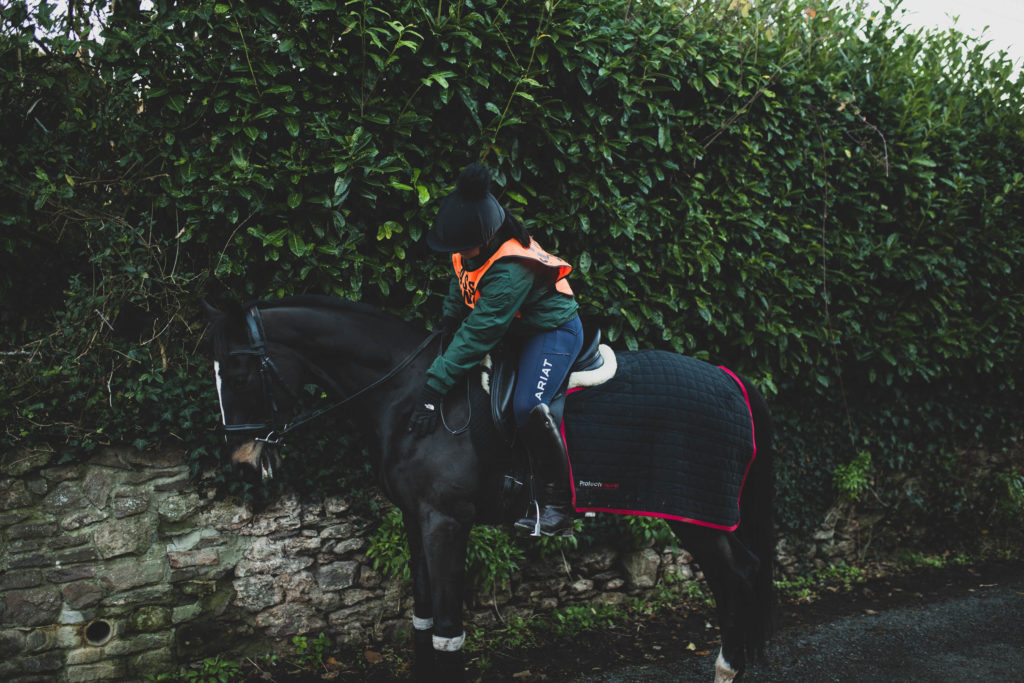 Fash-un?
Im in a generation of people that have got past a certain age and really don't care what I wear out in public. That's right I think I surprise myself with some of the states ion willing to leave the house. The equestrian world has become a bit of a fashion show. Don't get me wrong I love a matchy set and a nice pair or breeches as much as the next person but there is a time and a place for that. A lot of riders see hi- vis as something that they pop on if they remember not a necessity and that's what needs to change. If its fashion you're after not all hi-vis looks like you've wandered into a builders yard and stolen their finest work jacket or you've borrowed your dads from the garage (both acceptable if you forgot yours).
The Rider Eye tabard is well fitting over a big winter jacket or breathable enough in the summer, they come in three colour ways and are writing in the words PASS SLOWLY.
When I opened the Rider Eye tabard I have to be honest I read the 'filming' part and some of me thought "oh gosh am I going to anger drivers more". I had a bit of a feeling that drivers would play up to that, maybe they would know I wasn't filming and would go quicker.
The outcome
The outcome was the complete opposite of what I expected. Hacking is the main part of Colins exercise regime at the moment, even when I have a lesson I hack especially in this lockdown. We have some quite busy roads being a touristy area lots of people come to the woods and 'Instagram'. I have found that nearly all (apart from one older lady I had an altercation with) slowed down. even on a road where even in a car people don't slow they squeeze through. The general public seemed to have a better respect.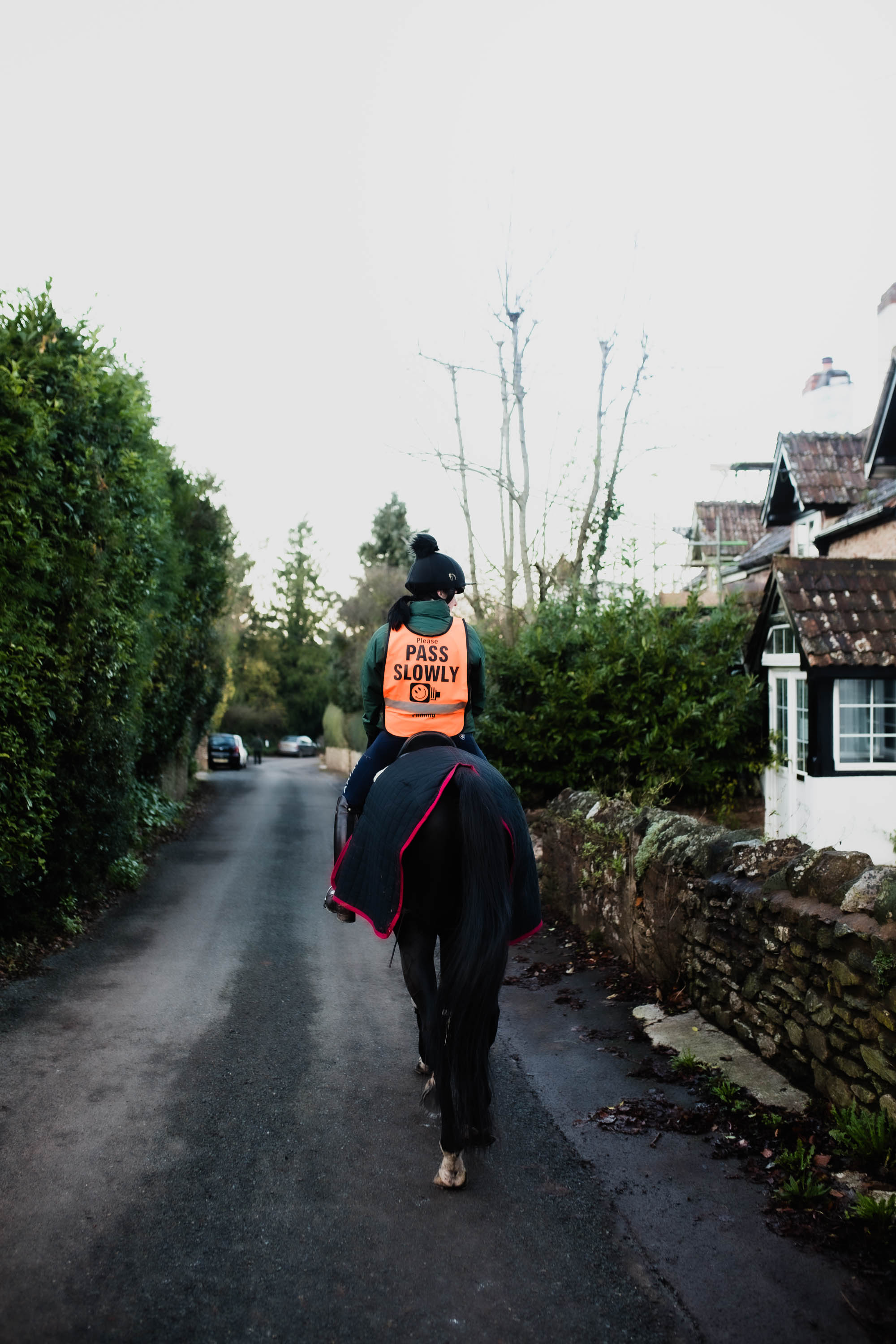 Moving forward I plan on lifting the stigma that wearing hi vis is uncool and work to improve the relationship between us and other road users through education.
Head over to Rider Eye's website to see the full range and their instagram @rider.eye to join us on this hi-vis battle.