Welcome back to my lovely little blog page, I've been promising you all over on socials an update blog, if I'm honest it wasn't inspiring me to get it written and much more exciting content like his first competition was. I can sum up the update in a few bullet points here for you;
😒 Cols went lame and after some investigations a foot abscess and some shoeing changes needed to be made.
🎠 Farriers are amazing.
🙈 Colin went on holiday to Somerset and has NOT come back (this is huge news but definitely not enough to fill a whole blog)

Im the kind of person who puts a huge amount of pressure on myself and i'm actually such a perfectionist. I really care what other people think, I have a fear of being judged and put a huge amount of expectation on myself. My expectations for this show were just way too high and being totally honest I cried because I felt like my little dream had been shattered when it all went wrong but I was was wrong. The dream had just started to become realistic.
Show day
Nine months ago if you had asked me what I planned on doing with Cols trotting up the centre line in a novice test for his first competition out would not have been it. Now if you ask me? It's the best decision I made.
Ive never really been one to suffer from pre competition nerves, I get excited, like a child on Christmas Eve that is me the night before a competition. I haven't danced up the centre line for over two years so I knew I would be ring rusty and that gave me a little anxiety.
We were up bright and early to make sure Cols had his Dengie full fibre breakfast and that all his plaits were in place, thankfully only one rogue plait to fix, some mud to wipe off his leg and we were away to go.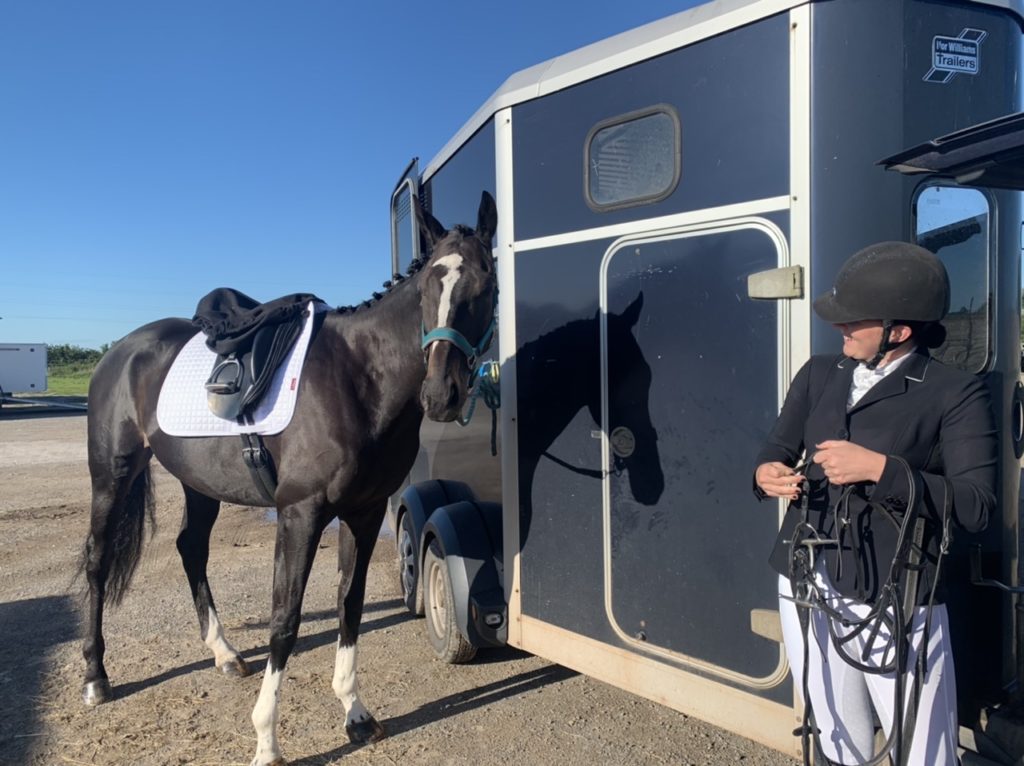 That person you all want to leave the warm up
We have all been there, in the warm up and there's that one person who you just wish would bugger off, they canter around uncontrollably, horse bucking towards other horses just causing general havoc. Yesterday that was me, I could see everyone else's faces just hoping I would give up and leave. I didn't, I mean I couldn't, I had to sit there doing my best to settle chocolate pony down. I didn't get any of my canter leads right, I couldn't even canter a circle on the right rein and I was sweating. Thank the lord for Corona only allowing 6 in the warm up at a time, any more horses than that would have been carnage. Then came the first test …..
Prelim 17A
I went into the arena already in a little bit of a fluster, He actually trotted around the outside quite sweetly, a big deep breath not to pass on any negativity to Cols and up the centre line we went.
It was green and wobbly but he went forwards and seemed settled, oh how I was wrong. Tense trot work barely in a contact, breaking land speed record when he did canter, missed out most of the second canter completely either on the wrong leg or trotted it instead. Up the last centre line sideways with a wonky halt, salute and leave as quick as possible. This is where the tears started to come, my eyes were filling up, my throat went all scratchy and the diva in me was about to fall out of my face. At that exact moment I was heartbroken, I felt that I had asked too much of him and also felt like he left me nothing to ride so there was no way this was fixable in this setting. Knowing how consistent and beautiful he had been going in training my heart sank.
"I don't think I should do the novice" came out of my mouth and back to the trailer we went. My lovely friend Catherine gave me a chance to get over myself and I had a little watch of the video whilst she went off to collect a coffee for us. It actually didn't look as bad as it felt, I clearly managed to hide some of what I was feeling. Live scores were up and 51.72% (my lowest ever dressage score) the sheet tested the judges range from a 2-6.5's.
Novice 22
Some time for Cols to chill at the trailer and me giving myself a kick up the bottom clearly helped, he went back into the warm up with his work head on, he was rideable, forward, on the aids. I also kept my reins short, leg on and was sat on the horse I knew I had going into show day. Up the canter line and it felt like a completely different test, I got greedy in my first medium trot and broke him into canter DAMMIT. The trot work was soo good, the canter was again little wild but he got both leads right first time, kept the canter and I remained accurate. So glad I hung around for the second test, still not quite where I hoped we wold be but a 7% increase in score giving us 58.28% IN HIS FIRST EVER SHOW AND IN A NOVICE TEST. I was thrilled.
The dream has just began, a huge learning experience for him and he proved what a genuine pony I have in my life, he trusted me and I more than believe in him. Onwards and upwards Colly ❤️

Love always Leah and Colin x
Videos of both tests on the Videos page of my website for your entertainment.